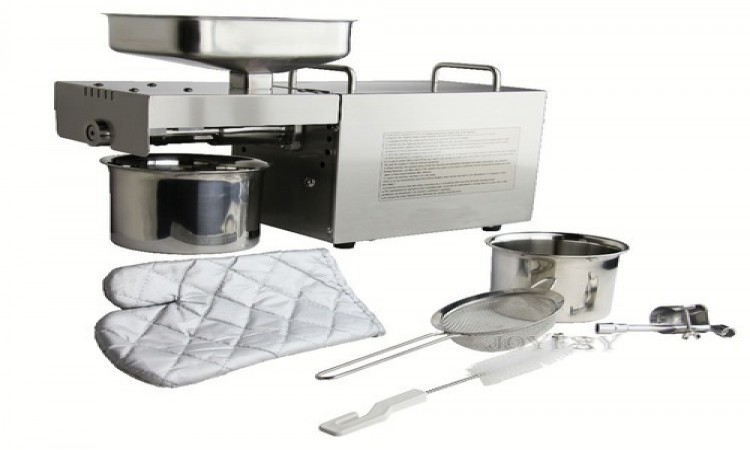 Oil Machine

| | |
| --- | --- |
| Capacity | 3-6kg/hr (According to the material) |
| Voltage | 220V/110V |
| Motor Power | 350W |
| Net Weight | 10.5kg |
| Metrial | 304# food grade stainless steel |
| Machine Dimension | 448*180*295mm |
| Packing size | 570*290*355mm |
1.Home Mini Oil Press machine
Oil Processing machine
Herbal Oil extraction machine
2.The Motor is industery motor that it can continue working for more than 5 hour.we suggest it works for 5 hours,and take a rest for about 1 hours.That will be good for the machine .
3.oil exctracting rate is up to 45% which depends on the oil seed .
4.Easy to operate,clean and move.
5.Working capacity (Just for referaqnce):
Materials Efficiency Oil Yield
Peanut 4kg/hr 1.8kg/hr
Sesame 6kg/hr 3kg/hr
Sunflower 4kg/hr 1.8kg/hr
Linen Aberdeen 5kg/hr 1.6kg/hr
Walnut 4.5kg/hr 2.1kg/hr
* How To store the oil
After putting in room Temperature above 15C for one night,oil and thick liquid will separate automatically,and it does not need filtering:the longer it is placed,better separation effect is: after they are completely separeted,bottle it and put into fridge,orkeep it at room.
हामि कहाँ सानो ठुलो तोरी,सूर्यमुखी,बदाम,सुरबुजे लगायत अन्य तेल निकाल्ने सम्पुर्ण औजार मेसिनहरु उपलब्ध छ ....
In Butwal Nepal